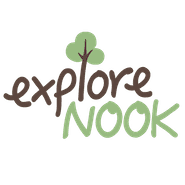 Your child might be young, but that doesn't mean their mental skills aren't growing and developing. Explore Nook's wooden blocks are designed to encourage spatial thinking, problem-solving, and more. Want them to learn about water flow? No problem! The wooden water wheel toy is a good place to start. Encourage their creativity with these toys.
Explore Nook is a new toy brand focused on spatial skills. Engineered to encourage your child's mental development, these toys allow children to refine their brain and spatial perception: two skills that are essential for the future. This brand didn't just create blocks, Explore Nook built a whole world of toys, one that will engage and inspire your child's brain to grow. They are all about the flow of water: it's toys will help your child understand the way water flows with their 3D blocks. They'll help you explain the importance of water and how it moves around. These toys are a great addition to any home or classroom! This is a set of beautiful wooden blocks that are designed to encourage the growth of your child's skills.
New Products
We search the world for quality, innovative and fun early childhood educational resources for families.
It seems we can't find what you're looking for.