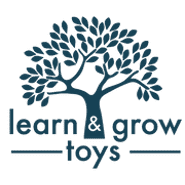 Magnetic Tiles by Learn and Grow are the perfect gift for your little ones. With these tiles, they have endless possibilities for building, construction, engineering and imaginative play. Plus, with so many shapes and colors, there are no limits to their imagination! The possibilities are endless and kids will never have a dull time. Kids will for love these magnets because of how strong they are and the fact that they allow them to make all sorts of structures from buildings and tall structures and because the blocks are stackable and do not fall over, they will not get frustrated when a building collapses.
The 64 piece set includes:
2 large squares
26 small squares
12 equilateral triangles
6 right-angled triangles
10 isosceles triangles
4 half squares
4 windows
New Products
We search the world for quality, innovative and fun early childhood educational resources for families.
It seems we can't find what you're looking for.