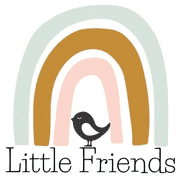 With these Party Capes by Little Friends, your little one will look like the happiest kid on earth, you can help your children recreate their favourite fairy tale and live happily ever after. Bring the magic of storybooks to life with these amazing capes for kids! These whimsical, heart-warming capes are the perfect gift for any child who wants to dress up and pretend to be someone else. Made from Tulle, these capes will make your children feel like they can take on the world.
Party Capes come in 6 different designs:
Rainbow Pom Pom
Cream Sparkle (with hot pink pom poms)
Pink Sparkle (with hot pink pom poms)
Blush Pink stars
Hot Pink stars
Aqua stars
New Products
We search the world for quality, innovative and fun early childhood educational resources for families.